The Venue
The Listening Room – is a place where the focus is on the performance. We are neither a bar nor a club. The audience have come to listen and to watch. This is a space where lovers of any given form can gain the fullest enjoyment in experiencing the events they have come to see, and performers can find the attention of an appreciative audience.
With an eye to our role in the cultural life of the city, the Dublin Unitarian Church has long played host to a variety of social and cultural events. Our involvement in the arts was recently (in 2008) highlighted with the publication of An Damer, which documents the period between 1955 and 1976 when the church hall, the Damer, was the home of Irish language theatre in Dublin.
For information about the possibility of using the church as a venue please contact eventsunitarianchurch@gmail.com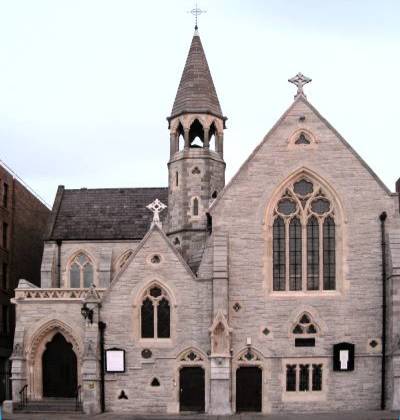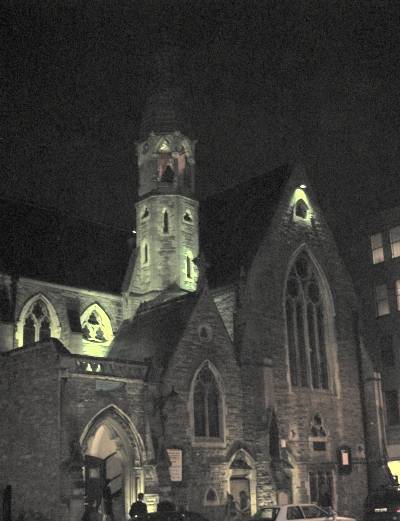 In more recent times cultural happenings have moved upstairs to the main church area, with poetry readings, music concerts, book launches, talks, lectures and workshops, and even the occasional theatrical event all having found a welcoming home beneath the impressive rafters of this beautiful old building.
Capacity: 190 – all events are fully seated
The seating is arranged in two sections:
Main body: 135
Side: 55 (some with limited sightline)
The gallery is no longer in use for public events.
We are first and foremost a working church, not a theatre. That being said, we are delighted to be able to provide a magnificent setting in the heart of the city for many and varied events and happenings. Below is some information which might assist you in deciding if the Unitarian Church could suit your particular venture.
Restrictions & Limitations: We consider each event to assess its suitability. While happy to host a wide variety of events, we place some restrictions on the use of our space. Theatre and dance are unlikely to be suitable, as the fabric of the building and its antique furnishings and fitments would not take well to the rigours of such events. We host a wide variety of musical events, but again there are some concerts for which the church would not be suitable, on both acoustic and aesthetic grounds. We therefore limit the volume of events. Occasional peaks and crescendos excepted, the volume at the rear of the church may not exceed 85dBSPL. And finally, there is no bar in the venue, and no food or drink are allowed in the church.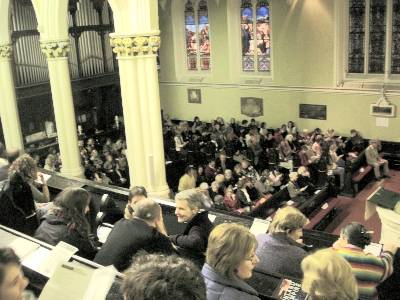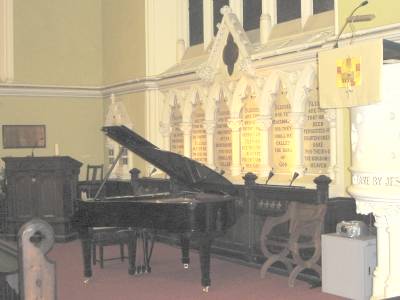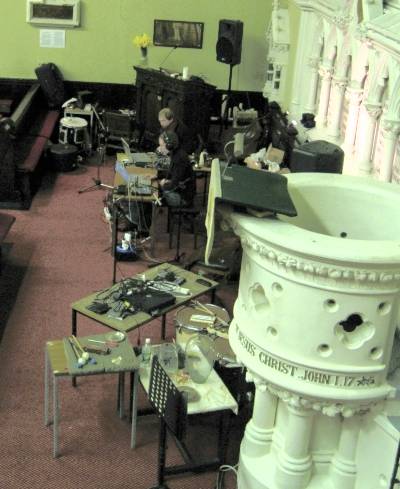 Main performance area:
22′ (6 m) wide x 11′ (3 m) deep, unrestricted headroom.
Full width including partially obstructed side sections: 33′ (10m)
Fully covered in fixed carpeting.
Power: Standard 13A sockets stage left and stage right, with backline extensions as needed
(no high current 3-phase stage power available).
Lighting: If you do not have specific lighting requirements, the fixed church lights, plus a number of positionable floor lights (two Strand Patt. 60 floods with colour gels, plus a few small LED lights) which we have at our disposal should suffice. There are no moving lights in the venue. We do not offer blackout capabilities, so daylight also effects the lighting before dark. The use of smoke and fog machines is not allowed in the church. If you are considering a more elaborate set-up please discuss with church liaison in advance.
Backstage facilities: There is a small kitchenette with a sink, microwave, and kettle. There are toilets (with mirrors – not full length), which can be used as changing rooms if needs be. There is no dedicated Green Room area in the venue although the church vestry is often available for this purpose. Please check in advance. There is no bar, and no food or drink is allowed in the church.